The company was created more than 30 years ago in the state of Massachusetts in the USA. The founder, Thomas Stemberg, decided to open the store of the office supplies with fast delivery and a wide range of the items. The company took specialty out of the school and office supplies first. From the very beginning, the B2B delivery concept was realized.
Now Staples is the leading retailer with the big assortment of goods to choose. The products are available online for ordering and in the physical shops. The stores are located on the territory of the United States and Canada.
The available Staples goods to buy
The office supplies and school things are still sold by the top-ranking retailer. But the assortment became more multifarious now - the customers are able to order:
Furniture;
Electronics;
Cleaning items;
Printers and computers, etc.
All the accessible goods are presented in terms of separate categories on the main page of the official Staples website. The products in trend or with the reduced price are performed with the photo under the upper panel.
The website options
The desktop version and the mobile one differ from each other. But all the necessary information is saved even in the variant for pocket screens. The desktop version shows all the Staples advantage point all-in-one. The search box is situated below the upper panel with the main categories. Below the products, services and deals lists are the hot offers. Among them are:
Special weekly saving campaign;
Trending items with a reduced price;
Coupon codes to select.
The online Resource Center is also available. Here the main tips and news are collected for the site visitors and potential clients. The key point of the retailer is the high-grade custom service that includes the privileges for the consumers who gained the Staples membership.
Main Staples advantage – customer service of the high grade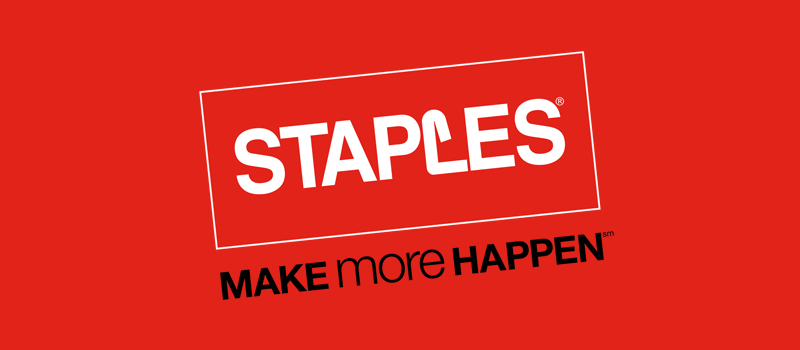 The company guarantees the fast delivery of goods that are ordered online. Its online store provides the email customer support and the callback relating the problems with the site. The frequently asked questions are answered and all responses are given in the FAQ form. The additional privileges are provided for the honored members of the leading retailer. The strongest sides of the membership are:
The special offers for the small business representatives;
Free next-day delivery;
10 % back rewards (on ink and other goods);
The possibility to choose 5 favorite items and get a lower price for these ones.
The purchasers have the possibility to stay tuned in case of the subscription. The profitable deals will be sent in terms of the email letter. Staples is considered as the retailer with B2B concept of delivery with the big potential. According to the customers' feedbacks, the wide range of tech, business, and sustainability services implemented are a good idea. People only want to have more information in the category of Store Locator.